District Governor
Sydney Gilbert
District 6150 Governor 2023-24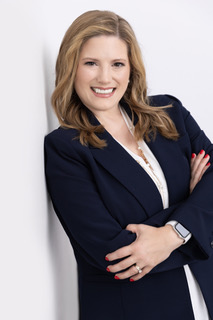 Sydney O'Quin Gilbert
District Governor 2023-24
Sydney O'Quin Gilbert joined her father in his investment practice in 2005. Being a young person in that business, Sydney was looking for a way to meet more professionals whose focus was on service and ethics. Since her father, Roger O'Quin, was a member of Rotary, she joined too. Sydney joined the North Little Rock – Riverside Rotary Club. Throughout her membership, it was always a "small club" but quite mighty. She served the club as President in 2008-09, earning Club of the Year that year, and again in 2014-15. She most enjoyed the service projects with Glenview Elementary School where the club did a project for each grade, pre-k through 5th grade.
In 2019 Sydney got the opportunity to lead in a new innovative club. She is a charter member of the Little Rock Afterhours Rotary Club. Their club meets once a month after hours and does at least one service project a month. She served as a Director from 2019-2022.
Sydney has served District 6150 in many capacities: Assistant Governor (2009-12), District Registrar for Mid-America PETs (2009-2020), Chair or Co-Chair of the Foundation Banquet (2009-2022) and District Administrator (2017-2021).
Outside of Rotary, Sydney wears many hats. Professionally, she is a Financial Advisor and holds the Certified Financial Planner™ professional designation. She and her father opened The O'Quin Group, Inc., an independent investment practice that offers products and services through Wells Fargo Advisors Financial Network. She is active in her church supporting both her husband, Luke Gilbert's, ministry and leading a small women's group. Most importantly, Sydney is a wife to Luke and a mom to Andrew (13). In her free time, she enjoys traveling with her family, listening to books, knitting and cross stitch.
As the District Governor for Rotary District 6150, I act in a completely separate role from my position as a Financial Advisor at Wells Fargo Advisors Financial Network.
Investment products and services are offered through Wells Fargo Advisors Financial Network, LLC (WFAFN), Member SIPC. The O'Quin Group is a separate entity from WFAFN